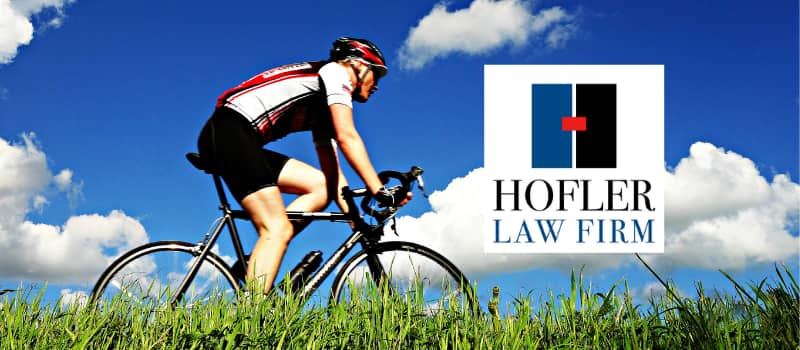 South Carolina's beautiful weather makes this a great place for riding bicycles. Unfortunately, whenever cars and bikes share the roads, this can lead to accidents involving bicyclists.
Bicycle accidents can be very serious, resulting in injury and even death. Bicycle accidents may give rise to a personal injury claim.
Attorney Jack Hofler offers legal counsel to victims of bicycle accidents throughout South Carolina.
Types of Bicycle Accidents
There are many types of bicycle accidents and many reasons an accident may occur. Liable parties may include the following:
Negligent Motorists
An accident may occur when a distracted, careless, or drunk driver does not see a bicyclist. When a driver does not follow the rules of the road with riders, they are being negligent. Common mistakes include failing to keep a proper lookout, failing to yield to a bike, rear-ending a cyclist, or passing too closely.
Businesses and Corporations
If the driver was working when he hit you, the business may share liability for the accident.
States, Towns, or Municipalities
These entities may be held liable when poor road design or conditions increase the risk to cyclists. If poor maintenance of roadway surfaces or vegetation along the roadway caused an accident, the government entity may bear some liability.
Rights of Cyclists
South Carolina law gives the same rights and duties to bicyclists as to drivers.
Collecting Damages After a Bicycle Accident
An experienced attorney can ensure you receive full compensation for the pain and suffering you experienced as a part of the accident. There are several types of damages you may be able to collect.
Economic Damages
You have the right to collect damages for past and future medical costs, past and future lost wages, and property damage (for example, replacing your bike).
Non-Economic Damages
You have the right to collect damages for physical, emotional, and psychological pain and suffering. This may also include your spouse's claims for loss of consortium or companionship.
Wrongful Death
In the event that the accident caused the death of the cyclist, the family may collect damages for wrongful death.
When the At-Fault Party Doesn't Have Enough Insurance
Even though SC law requires all drivers to have insurance, unfortunately, many still do not. Even if they have insurance, it is often not enough.

A personal injury attorney will work with you to investigate all potential sources of insurance coverage to maximize the amount of available insurance to cover your loss.
Hit and Run Bicycle Accidents
Unfortunately, sometimes a driver flees the scene of an accident rather than stopping to help the cyclist and take responsibility.

You may be able to draw on coverage from your own insurance policy's uninsured motorist coverage. An experienced attorney can help you find and pursue available insurance coverage.

At Hofler Law Firm, we can help you find out what you are entitled to under the law.
Talk to a Bicycle Accident Lawyer in South Carolina
Contact Attorney Jack Hofler to review your case today.
We offer a free consultation, and there is no obligation to sign up. You owe us nothing until we have resolved your case.* 
Fill out our online form or call us today at 843-799-0680.
*Free consultation does not apply to family law cases.