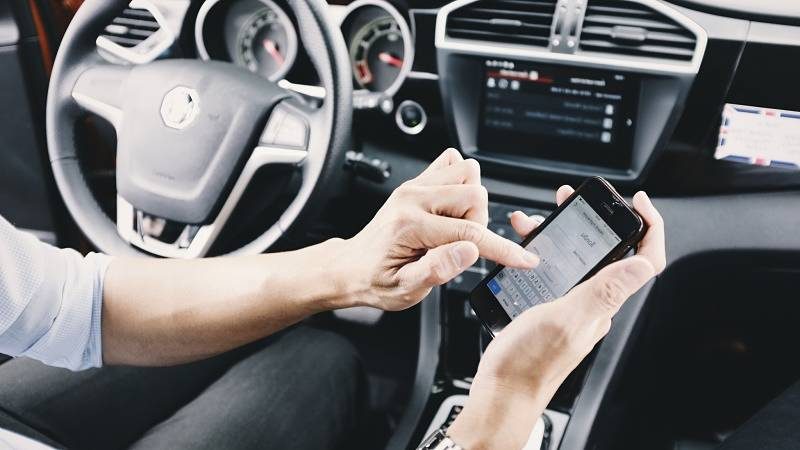 Previously, I wrote a post warning about the dangers of texting and driving. In this post I will talk more specifically about what you should know if a texting driver caused your automobile or motorcycle accident in South Carolina.
The Law in SC: Texting and Driving
Texting is not only unsafe but also illegal in South Carolina.
There is no law against handheld or hands free calls. Drivers may also legally use their phone's navigation system and summon emergency assistance. Even though some uses of a cell phone while driving are not illegal, they can contribute to a driver's carelessness and negligence in an accident.
Typical Accidents Involving Texting Drivers
There are several common accidents that a texting driver might cause:
Rear-end collisions because the driver is looking down and slams into the car in front

Head-on collisions because the driver is looking down and drifts into oncoming traffic

Accidents where the driver "didn't see" the victim in time–These accidents may involve another vehicle, a pedestrian, or a bike.
Texting While Driving Is Negligence
Texting that causes an accident is a form of negligence. Drivers have a "duty of care" to the other drivers on the road. All drivers have the legal obligation to keep a proper look out for other drivers and pedestrians.
A driver who is using a phone makes this choice intentionally and puts other drivers, cyclists, and pedestrians at risk.
A texting driver may be held liable for your injuries in an accident. Of course, you must prove that the person was using his or her phone at the time of the accident.
Can I Prove the Other Driver Was Texting?
To prove negligence, you must show that the other person was in fact using the phone. This is not always easy.
Eyewitness testimony can help show that the at-fault driver was holding a phone at the time of the collision. Once a lawsuit has been filed, your lawyer can send a subpoena to the other driver's cell phone provider to request their telephone records. These records may show data, like the times of incoming and outgoing texts and calls.
Building Your Case Against a Texting Driver
If a driver on the phone caused your accident, keep these tips in mind:
Call the police to come to the scene and create an accident report. Give a detailed account of what happened. Document the accident scene and your injuries with cell phone photographs while you wait for law enforcement to arrive.

If you saw the other driver on the phone prior to or during the accident, let the reporting officer know. It is even better if a witness can confirm the driver was on the phone. The officer will include this information in the accident report. The driver may receive a citation for breaking a South Carolina driving law.

Of course, you should seek necessary medical attention and call your insurance company immediately. You should also consult with an experienced personal injury attorney as soon as possible. Witness statements are more credible soon after an accident, and cell phone companies keep data for a limited amount of time. Therefore, it's important for a lawyer to begin working on your case as soon as possible.
These tips will help specifically with proving the negligence of a texting driver. Consult my Car Accident Checklist for more helpful information.
Do I Need an Attorney?
An experienced personal injury attorney can gather the pretrial evidence necessary to pursue your case. An attorney has knowledge about the types of damages you may be able to collect and will strive to reach the highest possible settlement or judgment for you. Your case may be worth more than you think.
Involved in a Collision Due to Texting and Driving?
If you've been involved in a car accident with a texting driver, consult with a personal injury attorney immediately. Hofler Law Firm helps drivers in South Carolina who have been injured in car and motorcycle accidents, trucking accidents, and other types of personal injuries.
Contact us for a free, no obligation consultation to see how Attorney Jack Hofler can serve you.*
*Free consultation does not apply to family law cases.